Rakino Island Ferry Services Information:
As Rakino is a pest free island, there are a few things you need to know before your journey. Please see our luggage policy for important biosecurity information. If luggage does not meet the requirements we may be unable to carry it onboard.
Please arrive at the wharf 15-20 minutes prior to the scheduled departure time.
| | | |
| --- | --- | --- |
| | Depart Rakino | Depart Downtown |
| Wednesday 20th October | 11.40am | 3.35pm |
| Wednesday 27th October | 11.40am | 3.35pm |
| | | |
| | | |
| | One Way | Return | 10 Trips# | Stanley Bay Surcharge |
| --- | --- | --- | --- | --- |
| Adults | $42.00 | $67.00 | $300.00 | $4.00 pp |
| Children (5 to 15yrs inclusive*) | $25.00 | $37.00 | $165.00 | $4.00 pp |
| Secondary Student* | $25.00 | $37.00 | $165.00 | $4.00 pp |
| Family One-Way Pass** | $95.00 | n/a | n/a | $4.00 pp |
| Additional Luggage*** | $10.00 | - | - | - |
| Dangerous Goods*** | Free | - | - | - |
| Delivery Ticket**** | - | $25.00 | - | - |
* Under 14 years must be accompanied by an Adult. Please call Belaire Ferries on 09 416 6344 to discuss travel options. Secondary students 16 years and older must provide Student ID to be eligible for a concessionary fare.
** Family One-Way Pass – Up to 4 passengers, maximum 2 adults
*** All items are carried subject to our luggage policy
**** The Delivery Ticket is available to passengers who would like to accompany luggage or children to Rakino and then immediately return to Downtown Auckland on the same sailing.
Rakino Island – Sandy Bay
Ferry arrives and departs from the public wharf at Sandy Bay on the southwestern tip of the island.
Pick Ups/ Drop Offs
There is vehicular access to the wharf itself though consideration needs to be given to other users as space is limited.
Parking
Some street side parking is available on South Pacific Rd.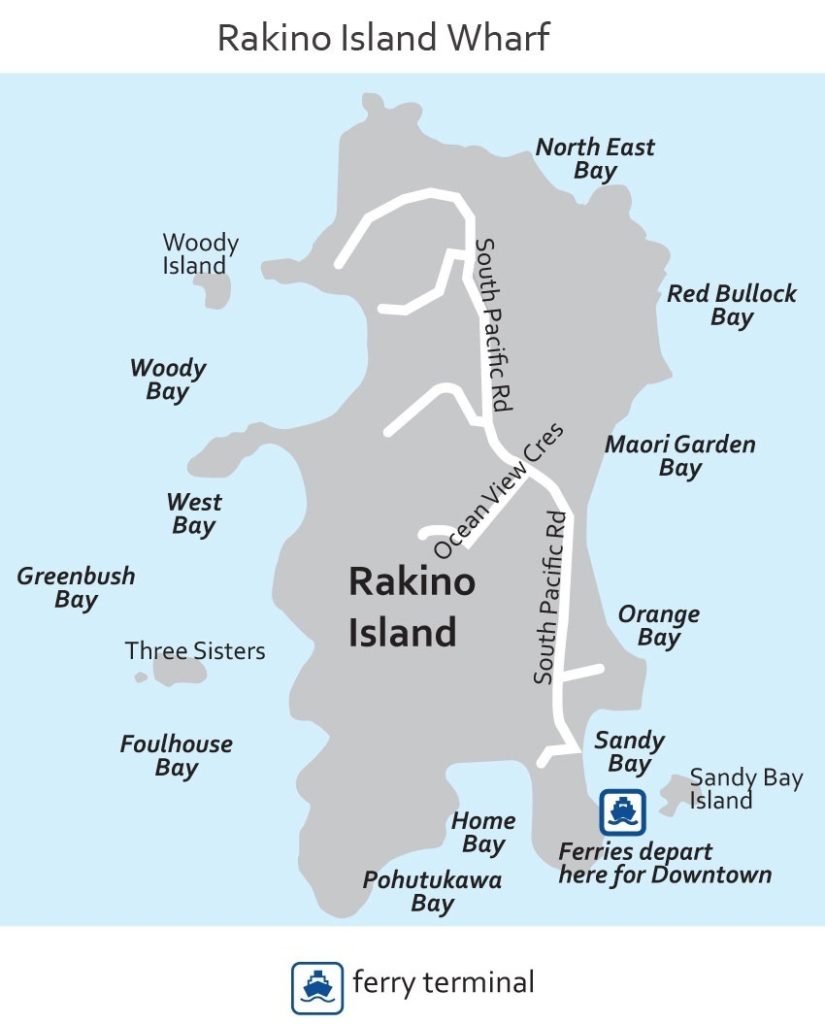 Downtown Ferry Terminal – Pier 14
Ferries depart from Pier 14, which is located directly opposite the bottom of Albert St.
Drop off/ Picks ups
There is space available on Queens wharf beside the Ferry Building which is suitable for quick pick ups and drop offs.
Parking
The downtown car park is closely situated with the entry located at the corner of Lower Hobson St and Customs Street West.
There is a weekend special available for Entry after 3.30pm on Friday and exit before 8am he following Monday: $22 More Info
We are the proud providers of the Downtown direct to Rakino Island ferry service.
Belaire Ferries pride ourselves on delivering a quality passenger service with an emphasis on safety and customer satisfaction. Idyllic Rakino Island is only a 45 minute trip away from Auckland's CBD and is a fantastic destination for weekend getaways or day trips. We support the community's endeavors to keep Rakino pest free.
Departing from Pier 4 at the Downtown ferry terminal, which is conveniently located near the Britomart transport hub, We provide a direct service to and from Rakino Island on Wednesdays, Fridays and Sundays as well as additional sailings during peak summer and public holiday weekends.
Bookings are not required.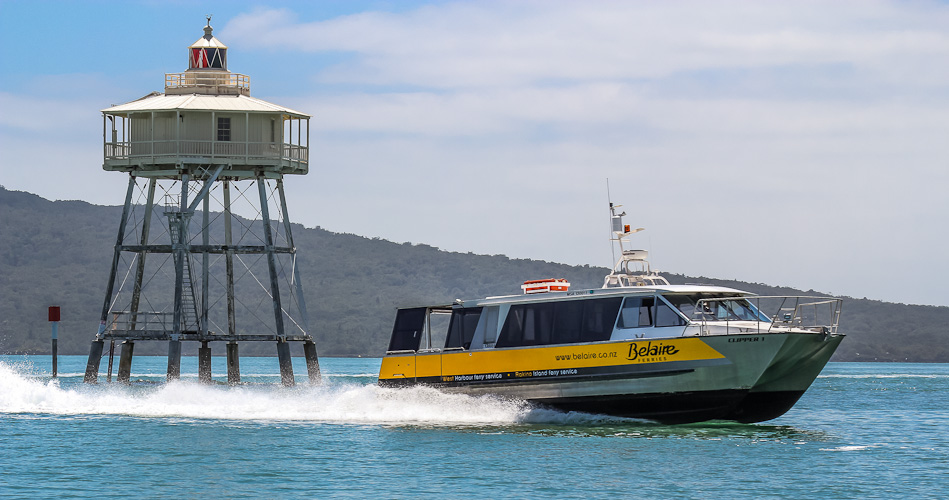 Do I need to book?
There is no need to book, however we do ask that you arrive 15-20 minutes prior to departure to allow time for loading luggage and ticketing
On those days when we expect large number of passengers we endeavor to provide a larger vessel. On the odd occasion when there are more passengers than we can carry we send the ferry back to pick up those left behind. there might be a bit of a delay but no one will be left stranded.
Where can I purchase tickets?
Tickets are all sold on board. We accept cash, Visa, MasterCard and Eftpos
Do you accept Super Gold Cards?
Auckland Transport does not offer SuperGold fares on this service.
Do you have parking available?
Drop-off and loading bays are available on the eastern side of the Ferry Building. Weekend and long-term parking is available at the Downtown Carpark. There is a weekend special available for entry after 3.30pm on Friday and exit before 8am the following Monday: $22 More Info
Can I travel to Rakino Island from Stanley Bay?
Some services offer the option of a pick up and/or drop off at Stanley Bay. Please check our timetable for availability.
Can I travel to Rakino Island from Hobsonville Marina?
At this time there is no interconnecting service available.
What happens in the case of bad weather?
It may be necessary to postpone a particular service. Passengers are advised to call the customer service line or check our website for updates. Ph 09 416 6344
A text alert will be sent out to those registered for our text alerts. If you would like to receive text alerts for the Rakino Island Ferry Service, text 'RAKINO" to 021 043 2597 or email your contact details to sales@belaire.co.nz
Registration text will cost a standard text fee. All text alerts sent to you will be free of charge.
How much luggage may I carry?
Please click here to view our luggage allowance. 
Can I bring a dog or a cat?
Yes, suitably restrained dogs and cats are permitted free of charge. All animals are carried at the discretion of the skipper, and it may be requested that your dog be muzzled if it has a tendency to nip or bite.
How can I transfer large amount of freight?
Belaire Ferries recommends using the Sealink service Sealink Freight
The Facilitator barge is another option: M.V Facilitator
Where do I go to connect to other public transport?
For all public transport information please contact Auckland Transport on (09) 366 6400 or Online Here